VOLKSWAGEN REACHES SETTLEMENTS WITH U.S. GOVERNMENT (Volkswagen Audi España SA)
(Source: Volkswagen Audi España SA) Volkswagen agrees to pay a combined total of .3 billion in fines and penalties Agreement includes the appointment of an independent monitor for three years CEO Matthias Müller says: 'Volkswagen deeply regrets the behavior that gave rise to the diesel crisis. We will continue to press forward with changes to our way of thinking and working.' Volkswagen AG has agreed with the U.S. government to resolve criminal and federal environmental and other civil claims against the company relating to the diesel matter. As part of the resolution, Volkswagen has agreed to pay penalties and fines totaling .3 billion and to a series of measures to further strengthen its...
▶ Full story on wn.com
▼ Related news :
●
Irina Shayk strips naked for Vogue Espana just four months after giving birth to her first baby
Mirror
●
McCracken County, Kentucky, Attorney Charged With Defrauding Clients of Insurance Settlements
World News
●
Government reaches out to leading Tamil diaspora group
World News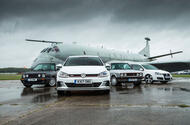 ●
Volkswagen Golf GTI: which generation beats them all?
Autocar
●
Volkswagen CEO says business going well so far in 2017: Rheinische Post
Reuters
●
Volkswagen CEO says business going well so far in 2017 - Rheinische Post
World News
●
U.S. lawyers suing Volkswagen get $300 million in fees, costs
Reuters
●
U.S. lawyers suing Volkswagen get $300 mln in fees, costs
World News
●
Volkswagen to pay millions more in California for diesel scandal
World News
●
Volkswagen Truck & Bus increases unit sales in first half of 2017
World News
●
FAW-Volkswagen agency workers issue letter in German calling for accountability and solidarity
World News
●
New Ingimex tipper conversion from Volkswagen
World News
●
Volkswagen ID EV hopes to undercut Tesla Model 3 by up to $8,000 - Roadshow
CNET News
●
Volkswagen considers options for transmissions maker Renk: sources
Reuters