SNOW: Severe weather warning for snow issued for Yorkshire from Friday
Snow could hit Yorkshire on Friday after the Met Office issued a yellow weather warning for snow for the region.
▶ Full story on yorkshireeveningpost.co.uk
▼ Related news :
●
The heatwave is nearly over as a severe weather warning is issued for heavy rain and thunder
WalesOnline
●
Weather warning issued for heavy rain in East Anglia after days of soaring temperatures
EDP 24
●
Weather warning: Met Office issues second highest alert as Yorkshire bakes in sunshine
Yorkshire Evening Post
●
Severe thunderstorm watch issued for Upstate NY: Will we see more hail?
World News
●
1 dead as Cindy spins severe weather along Gulf coast
World News
●
The Latest: Severe weather damages homes, cars in Florida
World News
●
Potent Cold Front Brings Severe Weather Potential Later Today
World News
●
Severe Weather Possible After Days Of Sweltering Heat
World News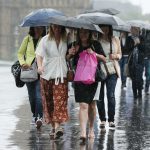 ●
Met Office issues severe warning of thunderstorms, hail and floods for east coast of Scotland
The Courier
●
5:30 P.M. UPDATE: Severe thunderstorm warning for much of metro Richmond until 6:15 p.m.
World News
●
Tornado Warning In Western Minnesota Amid Severe Storms
World News
●
UK weather: Britain braces itself for 'Thunderstorm Thursday' as flood warnings issued and heatwave ends
Mirror
●
Heatwave OVER: UK weather warnings issued for rain, lightning and floods from Thursday
Daily Express
●
UK weather: It's so hot that pavements are actually 'melting' as health warnings issued for heatwave
Mirror