Bear Market Rally Will Stall Or Accelerate Based On This Week's Closes
Image source : forbes.com
At the Christmas bottom the major equity averages were oversold with stochastic readings below 20.00 and each were down by 20% or more from their all-time intraday highs.
▶ Full story on forbes.com
▼ Related news :
●
Bear Market Rally Continued Last Week, Here Are This Week's Key Levels
Forbes.com
●
Five Must See Charts As The Bear Market Rally May Be Ending
Forbes.com
●
A Strong Crypto Rally To Start The Week, What Caused This Mad Rush?
Forbes.com
●
Crypto Market Rally Takes A Breather
Forbes.com
●
Despite The Recent Market Rally, Once Can Still Find Attractive "Oversold" Stocks
Forbes.com
●
Has Bitcoin Broken Free From Its Bear Market?
Forbes.com
●
PepsiCo Looks To 'Accelerate Growth' Even As Beverage Sales Slip
Forbes.com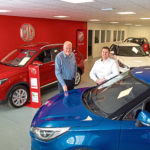 ●
Angus car dealership expects sales to accelerate with new site
The Courier
●
Leading self-driving car start-ups accelerate away
The Financial Times
●
Dad's turn to taste victory in Jack Frost Stages Rally at Croft
The Northern Echo
●
Rally in Stocks and Bonds Reveals Diverging Views on the Economy
The New York Times
●
St Rollox workers take Rally Roon the Caley campaign to Holyrood
Evening Times
●
Smith triumphs in Jack Frost Rally at Croft
The Northern Echo
●
Market Cautious As US-China Trade Talks Set To Continue This Week
Forbes.com