Could there be another EU referendum and how could a second Brexit vote happen?
Image source : thesun.co.uk
THERESA May suffered a defeat on January 15 in the Commons on her "meaningful vote" when her Brexit deal was rejected 432 votes to 202. At this tumultuous time, here is everything we know about the possibility of a second referendum — and how another Brexit vote would work. Will there be a second referendum? May […]
▶ Full story on thesun.co.uk
▼ Related news :
●
Jeremy Corbyn blasted for hinting Labour may stay neutral in second Brexit referendum
The Sun
●
What would Labour support in a second Brexit referendum?
The Week

●
Labour may stay neutral if second referendum is between its Brexit deal or remain
The Guardian

●
Brexit: Labour could be officially neutral in any second referendum, John McDonnell suggests - live news
The Guardian
●
Brexit bombshell: Secret EU documents prove Blair-Brussels plot to force second referendum
Daily Express

●
Len McCluskey: there is no path to a second Brexit referendum
The Guardian
●
Jeremy Corbyn betrays voters as he declares he would back Remain over No Deal in a second referendum
The Sun
●
Diane Abbott: Corbyn will 'follow what the party says' in a second EU referendum
The Scotsman
●
Elections watchdog may delay second Scottish independence referendum
Herald Scotland
●
Could Nicola Sturgeon push the nuclear button to get a second referendum?
Herald Scotland
●
Jeremy Corbyn accused by Tories of "surrendering" on second Scottish independence referendum
Herald Scotland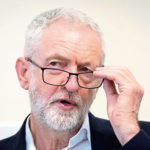 ●
Further turmoil for Labour as Corbyn drops opposition to second referendum
The Courier
●
Tories accuse Jeremy Corbyn of 'surrender' over a second independence referendum
The Scotsman
●
Hugh Bonneville thought Downton film would never happen - now he's predicting a second
Mirror