London diesel motorists will have to buy a new car or face paying thousands in new pollution tax
Image source : thesun.co.uk
HUNDREDS of thousands of motorists have just two years to save up for a new car – or face punishing daily charges under a "pollution tax" that has barely been publicised. Mayor of London Sadiq Khan's planned charge of £12.50 a day for "dirtier" cars over a certain age to enter the city will send […]
▶ Full story on thesun.co.uk
▼ Related news :
●
Motorists could be charged to cross three Tyne bridges in scheme to reduce air pollution
The Northern Echo
●
Petrol prices FALL - but diesel drivers and southerners paying far more
Mirror

●
Did London air pollution kill nine-year-old Ella?
The Guardian
●
Are diesel cars really that dirty? Tests reveal some models produce almost zero NOx emissions
Mail Online
●
How clean are new diesel cars?
The Week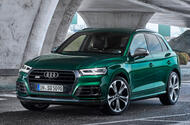 ●
New Audi SQ5 TDI diesel arrives with 516lb ft of torque
Autocar
●
German prosecutors start penalty proceedings against Daimler in diesel probe
Reuters
●
Volkswagen customer plans to take diesel case to Germany's highest court
Reuters
●
Volkswagen wins appeal against diesel car owner: German court
Reuters
●
The EU Has Given Germany The Green Light To Block City Diesel Bans
Forbes.com
●
Renault sales and profits fall on diesel, currency setbacks
Reuters
●
Fake Deliveroo driver Michael Ahmed armed with Taser robbed terrified motorists
Birmingham mail

●
Motorists facing eight mile detour after dangerous north-east bridge closed
Press and Journal
●
More than 3,500 motorists caught speeding in Norfolk and Suffolk police crackdown
EDP 24